WELCOME
Tax-Wizard: Revolut Trading Tax Report with Stock Statements
Everyone that traded shares in Revolut in 2020 misses having a global report of their gains to use while reporting taxes.
Tax-Wizard helps do your Tax Report - calculating acquisition, realization, and capital gains you have for the year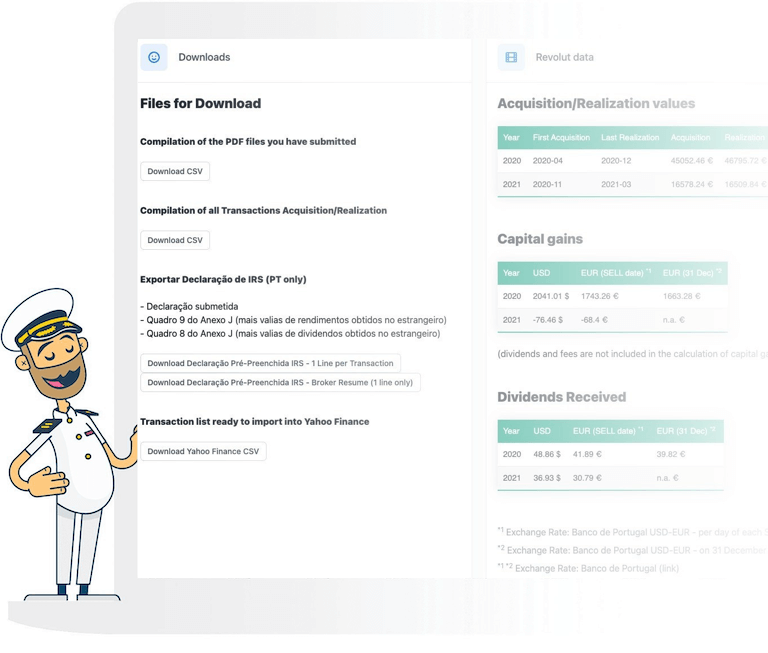 Tax-Wizard: Tool to Calculate Trading Profits for Revolut users

Profit Calculation
This tool reduces the time you'll need to spend calculating your profit to zero. Doesn't replace an accountant.

Validate the results
The tool will give you the data about your profit, certify the results with your accountant.

We don't keep your data
After all the math using the Revolut Statements that you upload the files will be destroyed and no transaction data is kept

Fast and Easy - Plug & Play
Submit the files and instantaneously receive the results, no configuration needed.
How much is your time really worth?
With this tool you'll spare a lot of time that would take you to manually process Revolut Statements. How much is your time worth?
Just convert Revolut Statements from PDF to CSV
All features, one Revolut account
Convert PDFs to CSV

Export CSV with all Acquisitions and Realizations

Automatic calculation of capital gains

Transactional statistics

Export to Yahoo Finance
All features, multiple Revolut accounts
Convert PDFs to CSV

Export CSV with all Acquisitions and Realizations

Automatic calculation of capital gains

Transactional statistics

Export to Yahoo Finance