WELCOME TO TAX-WIZARD
Revolut, Degiro, eToro, XTB, Trading212, and Interactive Brokers Tax Report
Tax-Wizard helps do your yearly Tax Report. Tax-Wizards helps calculating dividends, acquisition, realization, and capital gains for Revolut, Degiro, eToro, XTB, Trading212, and Interactive Brokers users.

Simply upload your broker reports or statements and let Tax-Wizard do the rest. Streamline your tax reporting process with Tax-Wizard.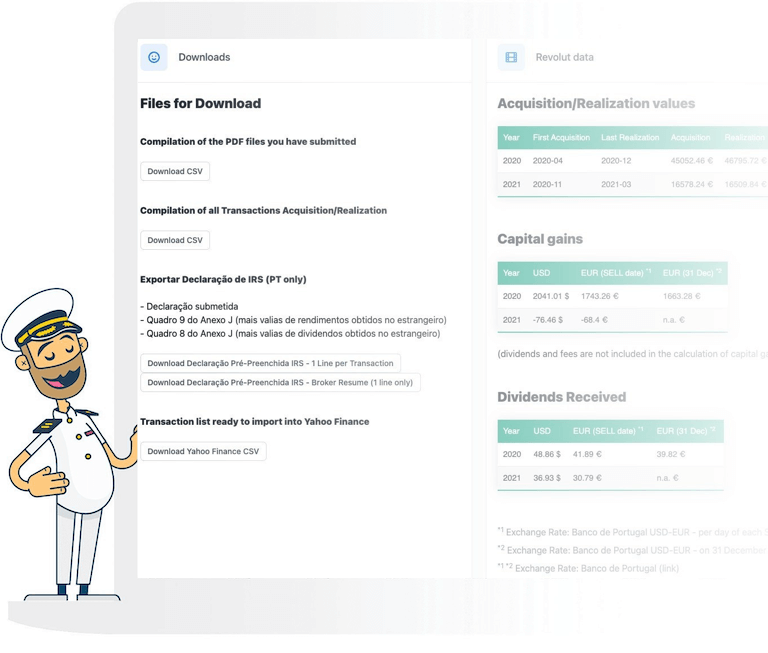 Tax-Wizard, a tool to Calculate Capital-Gains for Revolut, Degiro, eToro, XTB, Trading212, and Interactive Brokers

Profit Calculation
Tax-Wizard makes it quick and easy to determine your capital-gains, upload your broker statements or reports and receive the results instantly.

Validate the results
Please note that while our tool can save you time and effort in calculating your profits, it is recommended that you confirm all the results.

We don't keep your data
We do not store any transaction data on our servers and all uploaded statement files are destroyed after the capital-gains calculation is completed.

Fast and Easy - Plug & Play
Tax-Wizard is ready to use, no complex configuration is needed. Try it out today and see how easy it is to calculate your trading capital-gains.
Trading Tax Reports
Easy tax reports
Are you tired of spending hours trying to accurately report your stock trading taxes?

Developed specifically for Revolut, Degiro, eToro, XTB, Trading212, and Interactive Brokers users, our platform streamlines the tax reporting process.

With Tax-Wizard, you can save time and avoid the stress of manual calculations, giving you more time to focus on your investments and financial goals.
Capital-gains report

Have access to a comprehensive capital gains report in a variety of currencies, suported currencies list here. This allows you to easily track and understand the tax implications of your trades in your local currency, no matter which currency your transactions were made.
Platforms Supported

Tax-Wizard is developed for Revolut (Stock Trading), eToro (Stocks & CFDs), Degiro (Stocks & ETFs), XTB, Trading212, and Interactive Brokers.

We are continually expanding our platform support.

If you use a platform that is not currently supported by Tax-Wizard, please reach out to us at hello [at] wizardstork.com
Tax-Forms

With Tax-Wizard, you can easily generate professional and accurate tax forms with just a few clicks. Tax-Wizard streamlines the process of preparing and submitting your tax forms, saving you time and hassle. Try it out today and experience the benefits of seamless tax form preparation.
How much is your time really worth?
Consider the value of your time and the peace of mind that comes with having a reliable and accurate tool to handle your tax reporting
(not a subscription, no auto renewal)
All features, for Revolut, Degiro, eToro, XTB, Trading212, and Interactive Brokers accounts
Support for all Revolut, Degiro, eToro, XTB, Trading212, and Interactive Brokers currencies

Export CSV with all Acquisitions and Realizations

Automatic calculation of capital gains

Transactional statistics